Eastern Leg of Kisan Mukti Yatra Concludes in Muzaffarpur, Bihar | NewsClick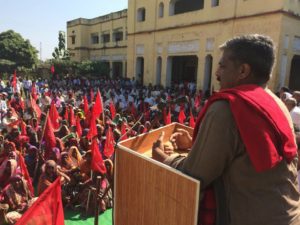 The Eastern Leg of the Kisan Mukti Yatra concluded on Sunday at Muzaffarpur in Bihar with the presence of massive crowd including farmers, agricultural workers, trade unionists and religious and social minorities.
Following the massive receptions in Begusarai, Patna, Aurangabad and Bhojpur, the fourth leg of the Yatra reached Muzaffarpur; the land of martyrs, Khudiram Bose and Prafulla Chandra Chaki. The members of the Yatra including All India Kisan Sabha General Secretary (AIKS) Hannan Mollah and AIKS Joint Secretary Vijoo Krishnan paid tributes to the martyrs.
Source: Eastern Leg of Kisan Mukti Yatra Concludes in Muzaffarpur, Bihar | NewsClick