Released at the 34th Conference: Red Flag of the Warlis by Archana Prasad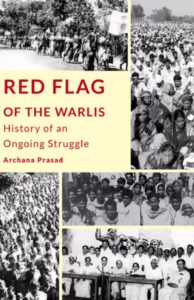 The Warli Adivasi Revolt in Thane district of Maharashtra from 1945 onwards was a historic event. It was part of the massive post-Second World War and pre-Independence peasant struggles in various parts of the country that were led by the All India Kisan Sabha. These peasant struggles raised the banner of revolt against feudalism and landlordism. They vastly strengthened the organizational base of the Kisan Sabha and the political influence of the Left.
This book is about the struggles for survival and dignity of the Warli Adivasis in Talasari and Dahanu talukas of Thane district (now in Palghar district after bifurcation) in Maharashtra. It is based on a series of oral history interviews with veteran and contemporary Kisan Sabha activists. They describe the ways in which the Warlis have sustained their struggles against an oppressive State and its allies since the first glorious resistance of 1945-52, right up to present times.
In doing so it captures the voices of Warli activists who actively participated in struggles over many years and whose histories have been erased by historians of mainstream academia. Documented over a period of four years of research, this book places on record some of the most remarkable struggles that have influenced the building of a strong class-based Adivasi leadership.
Archana Prasad
is Professor at the Centre for Informal Sector and Labour Studies, Jawaharlal Nehru University, New Delhi. She is the author of Against Ecological Romanticism: Verrier Elwin and the Making of an Anti-Modern Tribal Identity (2011), and Environmentalism and the Left: Contemporary Debates and Future Agendas (LeftWord, 2004).
Getting the book
The book was made available at a special price during the 34th Conference. It may now be bought from Leftword Books.