34th Conference Resolution Appealing to Peasantry to Support March for Democracy on 5th October 2017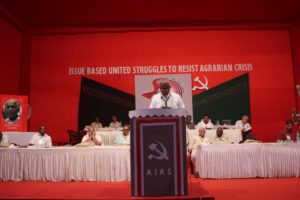 The 34th Conference of AIKS appeals to the peasantry and all sections of the people to support the March for Democracy on 5th October, 2017, happening exactly after one month of the assassination of Gauri Lankesh. March for Democracy will be organized in New Delhi and also in several parts of India demanding Justice for Gauri. All progressive mass, class and social organizations, groups and individuals will be participating in the protest.
The assassination of Gauri Lankesh, two years after a similar horror was perpetrated on scholar M.M.Kalaburgi in Karnataka, is not an isolated act. The murder of rationalists Govind Pansare and Narendra Dabholkar in Maharashtra earlier also follow the same pattern. These killings are a continuation of the chain of killings of Dalits and Muslims in the name of 'cow protection', 'religion' etc.
There have been many threats to activists, who have been countering communalism, and this has continued even after her death, with the killing of Santanu Bhowmick and as seen from the way eminent Bahujan academic Kancha Iliah was threatened and even physically attacked.
Being a founder member of Karnataka Komu Souharda Vedike (The Communal Harmony Forum, Karnataka), Gauri Lankesh was actively involved in the resistance against reactionary forces along with other progressive sections of Karnataka who had responded pro-actively and consistently to counter the growth of such trend in the society.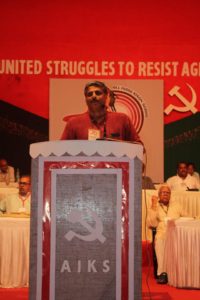 This conference demands that the police investigation must unearth the conspiracy and book the perpetrators without fail and the state government in Karnataka should expedite action in this direction by all means.
This Conference insists above all that it is the utmost responsibility of the offices that are supposed to safeguard the constitutional values to discharge their duty impartially. But unfortunately the present dispensation in the centre under the Prime Minister Narendra Modi is shamelessly upholding and supporting the forces which are destroying communal harmony and democratic values that are entrenched in our society.
This Conference appeals to every individual and collective that all those who think and feel for the future of humanity as a whole, to come forward and support the voice of unity for a harmonious and vibrant society.
Proposed By:Amra Ram
Seconded By: Vijoo Krishnan